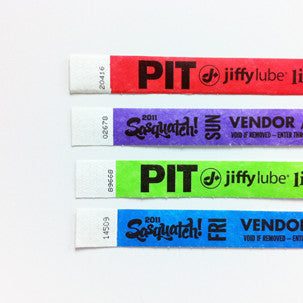 Custom Tyvek Wristbands for Special Events!
Our custom tyvek wristbands are imprinted with your custom artwork. With many bright band colors to choose from, it will be easy to designate different levels of access for your event! 
Size: 1" x 10"
Available Options  
• Up to 1 color can be imprinted 
• Production time: 10-15 business days (depending on size of project), plus time for shipping  
Additional Options - Call for quote: 
• Numbering 
• RFID (Radio-frequency identification) system
*Actual colors may vary from website.
---
Don't see it? The actual custom options available are too numerous to list. If you have a special application or idea, give us a call to explore all that we have to offer.