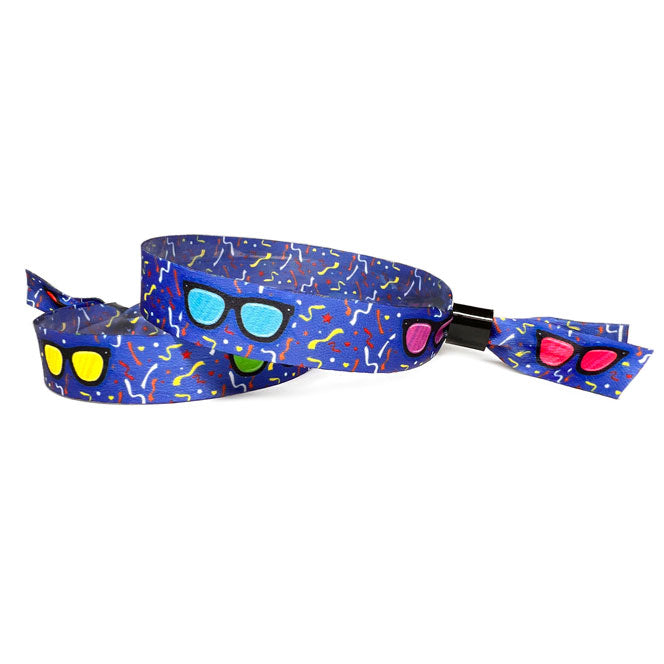 Full Color Cloth Wristbands | Party Time
(Sold in Packs of 100)
In-Stock and Ready To Ship!
Our Party Time Full Color Cloth Wristbands are ready to ship! Our premium fabric wristband designs are dye sublimation printed and include permanent sliding lockers, ensuring maximum security for your festival or event. These high-end cloth wristbands are printed with high-quality artwork and make for a great keepsake souvenir, long after the event.
To order Custom Cloth Wristbands Click Here!
Size: 1/2" x 6-1/2" (Polyester Silk) 
Locker: Includes Black Barrel Locker
ONE SIZE FITS ALL - They are adjustable to any sized wrist, lightweight and comfortable to wear.

PREMIUM CLOTH QUALITY - Made from high-quality polyester silk material, our cloth wristbands are durable, comfortable, waterproof, and stretch-resistant.

SECURITY - Each Cloth Wristband uses a waterproof, tamper-resistant barrel locker.

LONG LASTING - These event wristbands are perfect for both indoor and outdoor use and can be worn for multiple days.

PERFECT FOR EVENT ADMISSION - Cloth bands are perfect for places that require identification of customers like nightclubs, bars, arcades, trampoline parks, hotels, breweries, etc. They're also used in event type settings like fairs, festivals, sporting events, carnivals, concerts, etc.